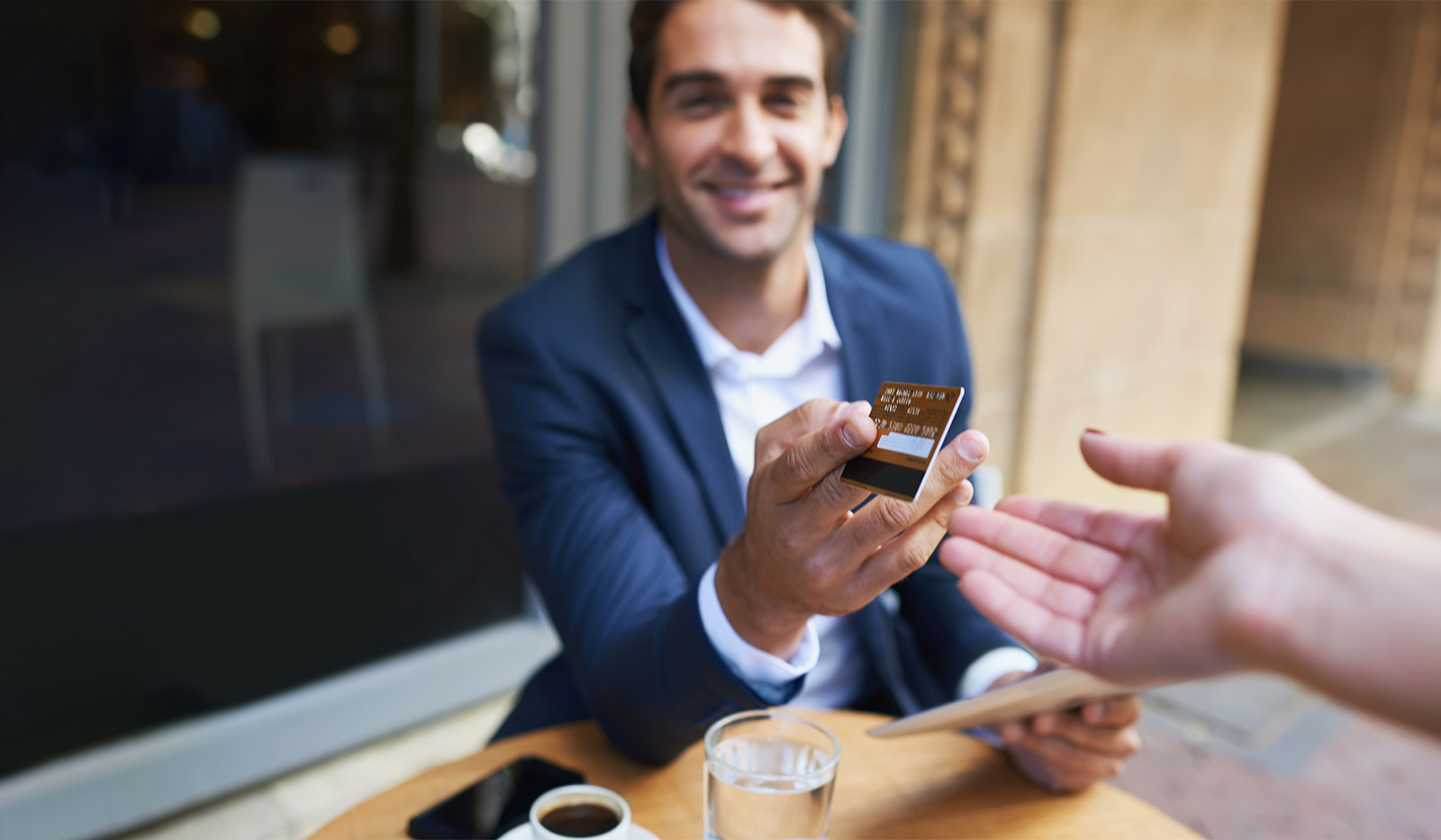 Business Credit Cards
A Business Card Built for You
Global Business Travelers
The Hanmi Bank World Elite and Platinum Credit Card from Mastercard® offers your business a credit card designed to complement the needs of your business. Provided by the community bank you trust, you have the freedom to choose a card that fits your specific needs. World Elite and Platinum cards offer the following: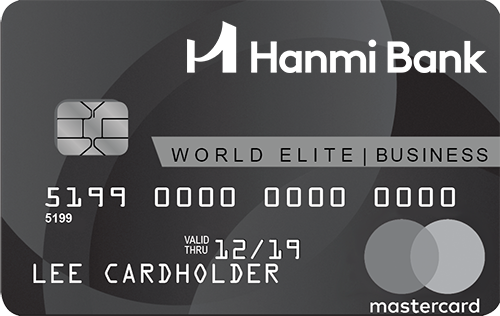 Business World Elite
---
Better Cash Flow Management: Whether you're hiring your first staff member, purchasing materials or bridging a gap in your cash flow while awaiting a payment, you'll want the ultimate business card that gives you access to capital to help you grow your business.
Identity Theft Resolution Services: World Mastercard for Business cardholders who believe they are the victims of identity theft are entitled to a variety of services, including assistance with the completion of an Identity Theft Affidavit, notification of all three major credit reporting agencies and assistance with credit and charge card replacement.
Zero Liability: Have peace of mind knowing that Hanmi Bank will not hold you responsible for unauthorized purchases made on your U.S. Mastercard. Zero liability applies to purchases made in store, over the telephone or online.
Concierge Services: Enjoy exclusive, personal assistance with making dinner reservations, finding event tickets, locating hard-to-find items, buying and delivering gifts, and coordinating business related arrangements. Knowledgeable experts can assist with whatever you need, whenever you need it.
Mastercard Business Network: Control your company's business travel by setting preferences like airline, class fare, and more. Also, book and manage flights, car rentals, hotels, and parking simply and conveniently.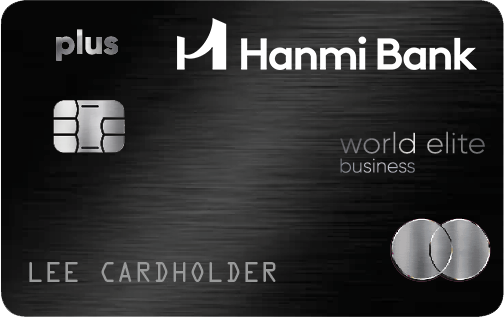 Business World Elite Plus
---
Personal Concierge Service: Enjoy complimentary 24/7 assistance with dinner reservations, entertainment, travel recommendations and other helpful services around the world.
Identity Theft Resolution Services: If someone steals your identity, Identity Theft Resolution Services provides resolution services to help you restore your identity. Full service restoration can help you reduce the personal time required to resolve the situation and can help eliminate out-of-pocket expenses.
Zero Liability: Pay only for purchases which you have authorized on your World Elite Mastercard. Unauthorized purchases are not your responsibility.
Annual Airline Credit*: Receive up to $200 in airline credits, which includes eligible charges, paid for with your World Elite Mastercard, from the airline such as checked bags, in-flight refreshments, flight-change fees, oversize baggage fees, airport lounge day passes, pet-kennel fees and phone reservation fees.
Car Rental Collision Damage Waiver Insurance*: Pays for covered damages (physical damage and theft) to rental vehicle when your eligible World Elite Mastercard is used to initiate and pay for the entire rental transaction.
*Certain terms, conditions and exclusions apply. Contact Card Assets for complete coverage terms and conditions via 1-800-854-7642 or call 1-800-MC-ASSIST (1-800-622-7747) for assistance.
Business Platinum Rewards
The Platinum Collection offers three styles of cards for you to choose from: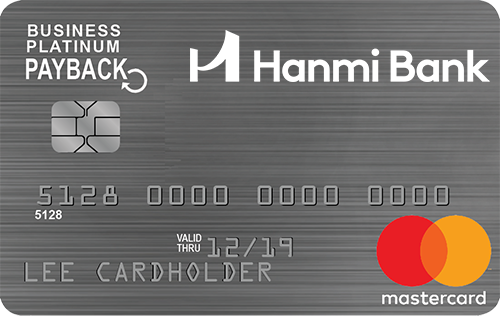 Business Platinum Payback
---
Experience immediate savings thanks to competitive Annual Percentage Rates
Get online access to all of your spending information for increased financial control
Insure and protect yourself with extensive security and travel assistance services
Earn 1% Cash Back on all your qualifying purchases*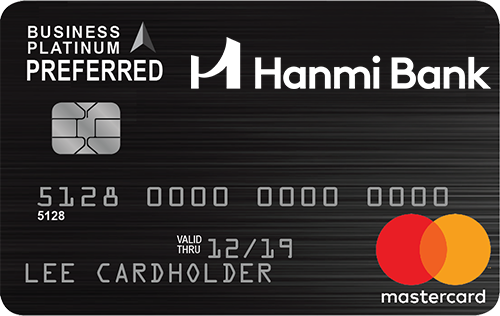 Business Platinum Preferred
---
Earn reward points on qualifying everyday purchases.*
Additional card enhancements include identity theft resolution services, travel accident insurance, baggage delay and lost luggage.
*Certain terms, conditions and exclusions apply. Contact Card Assets for complete coverage terms and conditions via 1-800-854-7642 or call 1-800-MC-ASSIST (1-800-622-7747) for assistance.
We're Here to Help
You've got a team of experts on your side. Whether you have a simple question or need a comprehensive banking solution, we're here for you.
Visit a local Hanmi Bank branch near you
Find addresses, phone numbers, and business hours for your Hanmi Bank branches and ATMs. We're here for face-to-face support in person.
Help is just a phone call away. Our Customer Call Center is open Monday ~ Friday, 7:00 AM to 6:00 PM PT for your personal and business banking needs.